To establish Secure Photonic Network based on the QKD technology, the basic performance enhancement and stability improvement of the QKD system are necessary. In addition, to enlarge application areas of Secure Photonic Network, an interfacing function for secure keys shared among multiple user terminals should be developed. To this end, we pursue the following four subthemes.
Subtheme 1: Stabilization technique

For a stable secure key generation, the system should be stable or automatically recoverable against the environmental fluctuations, such as ambient temperature changes or instability of electric power supply. Adequate supervisory control and secure active feedback schemes will be established.

Subtheme 2: Enhancing application platform

The secure keys shared by QKD should be securely supplied to application platforms.

Subtheme 3: Next generation quantum key distribution system technology

Higher key generation rate will be achieved by multiplexing quantum channels, by using higher performance error correction and photon detection technologies. System downsizing will also be achieved by optimizing circuitry design and functions of QKD system.

Subtheme 4: Long-term operational testing

Using stabilized QKD system developed through subtheme 1, long-term key generation will be tested under practical conditions for quality guarantee of the QKD network. Data monitoring system on the web will be developed, and part of transmission performance with environmental parameters will also be available soon.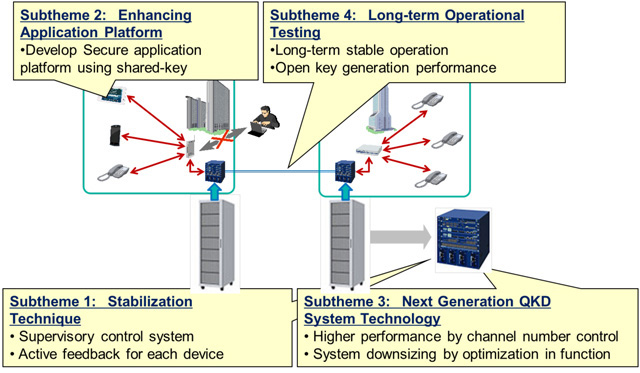 Fig. 1Four subthemes QKD technology for mission critical applications.
In May 2013 maintenance-free quantum key distribution for 30 days with QBER < 2.0% was achieved through a filed fiber (22 km distance, 13 dB loss) and we applied the system to NICT Tokyo QKD Network. Based on above established technologies, we develop compact demo systems. This system can be offered trial use to a customer to get some feedbacks other than applied to Tokyo QKD Network as a redundant link.

Interim results for Team 157A-T03
Task title
Outcome
Date
Note
1: Stabilization technique
Maintenance-free quantum key distribution for 30 days with QBER < 2.0% was achieved through a filed fiber (22 km, 13 dB).
May 2013
IEICE Society Conf. 2013
2: Enhancing application platform
An application platform architecture was proposed.
Based on above architecture, Key supply agent was developed in team 157D-T01.
Mar. 2013
3: Next generation quantum key distribution system technology
Photon detector packages of 3-slot size (ATCA) were developed. Using these detector packages field experiments were carried out and good performances (secure key rate >62.5 kbps and QBER < 3.0%) were confirmed.
May 2013
Smaller size (2-slot) detector package is under development.
4: Long-term operational testing
5-times (1 day, 5 days, 1 week, 2 weeks and 1 month) field experiments were carried out.
May 2013
OECC2012
Performance monitoring system on the web was developed.
Sep. 2013
CLEO-PR2013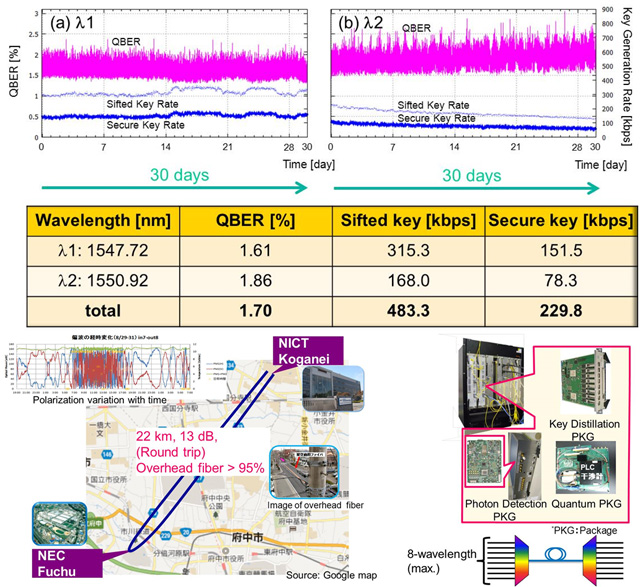 Fig. 2Interim results for Team 157A-T03

Targets for Team 157A-T03
Task title
Work/Milestone
Due Date
Note
1: Stabilization Technique
Establish stabilization technique of WDM QKD system. The performance targets are 125 kbps secure key rate, QBER < 3.0 % at 13 dB loss (2λ).
Mar. 2014
2: Enhancing Application Platform
Outcome was transferred to team 157D-T01.
Redefine this task as activities in team 157D-T01.
N/D
3: Next Generation Quantum Key Distribution System Technology
Complete smaller size photon detector packages (ATCA 2-slot size).
Develop compact demo system (1λ) using the smaller photon detector packages.
Mar. 2014
4: Long-term Operational Testing
Repeat long-term key generation experiment with additional compact demo system.
Mar. 2015


Chart 1Schedule for Team 157A-T03